Luminous: The Art of Neon


Curated by Kenny Greenberg and Tess Howsam, Culture Lab LIC

February 9 to March 26, 2023

Free, gallery hours: Thursday & Friday, 5-9pm, and Saturday & Sunday, 2-9pm



Exhibition Review by Gemma Cirignano

Based in a converted warehouse a block away from the East River in Queens, the arts nonprofit Culture Lab LIC boasts an impressive three-gallery exhibition space. Installed in their spacious back gallery Luminous: The Art of Neon offers a diverse presentation of neon artworks by US-based artists from the 1980s to 2023. Curated by the founder of Krypton Neon, Kenny Greenberg, and Culture Lab LIC's artistic director, Tess Howsam, Luminous highlights the range of possibilities available to artists who work with illuminating noble gasses.


Gerry Rose stands out as a particularly special inclusion in the exhibition with an entire wall dedicated to his commercial sign-inspired abstract neon compositions. Rose, now deceased, worked as the last neon bender for Artkraft Strauss, the iconic sign company famous for fabricating most of Times Square's neon. In many ways, he represents the final moments of neon's golden age in New York, and his compositions, all undated and attributed to the "late-twentieth century," exemplify the influence of neon on the city's urban landscape.



Having fabricated neon for renowned artists such as Lucio Fontana, Bruce Nauman, Bertrand Lavier, and Jill Magid–whose work "Richard's Function of the rose where the," 2023, is on view in the exhibition–Greenberg's expertise in neon fabrication and art shines through in the exhibiting artists. With few exceptions, like Magid, most artists not only fabricate their neon tubes but work to redefine the limits of the medium. For example, James Akers' Doodle series sculptures showcase his recent experimentations with recoating glass tubes in phosphor to create patterned glass tubes.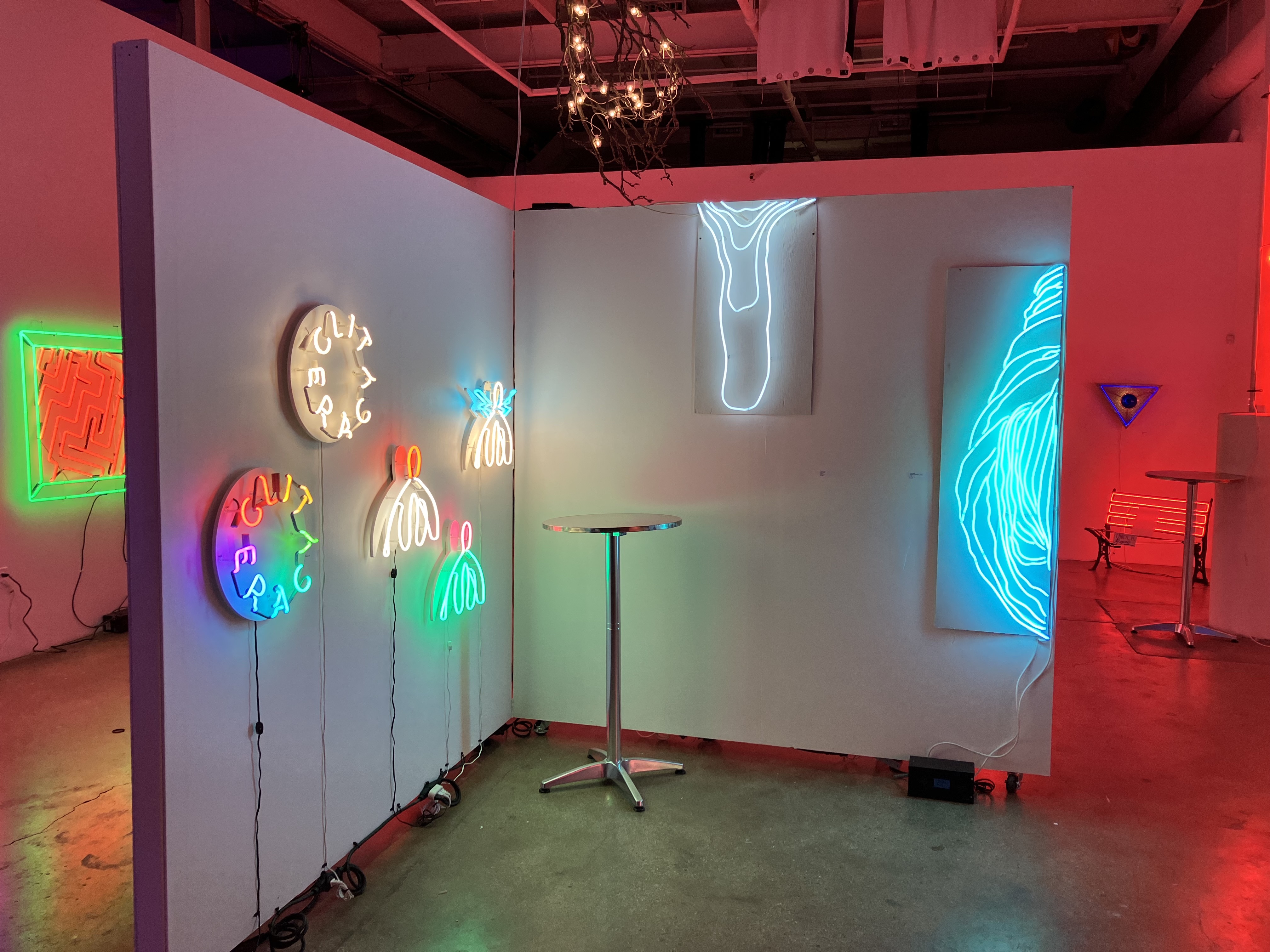 Exhibitions of this size dedicated exclusively to neon art are few and far between, and the breadth of artistic approaches represented in Luminous make this show particularly informative to understanding neon art. The exhibition remains on view through March 26, 2023, during Culture Lab LIC's gallery hours: Thursday & Friday, 5-9 pm, and Saturday & Sunday, 2-9 pm. ** The exhibition has been extended through April!